MYG Travel Guide - Cappadocia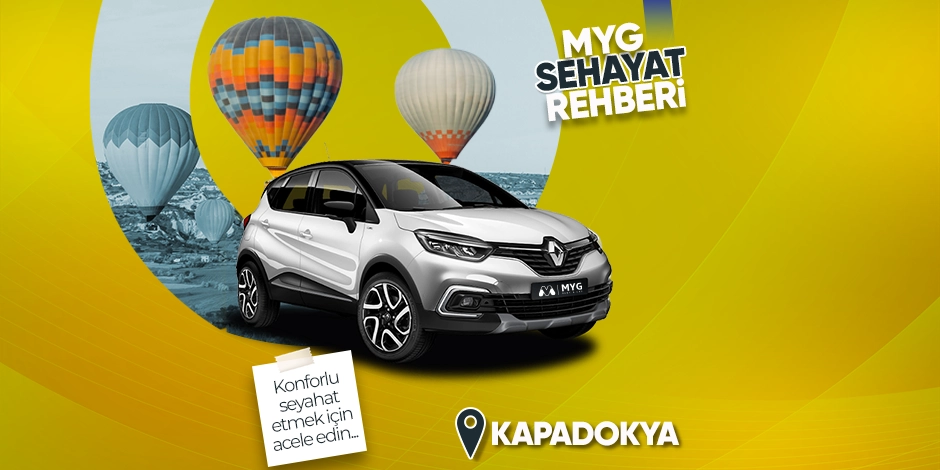 There are historical and natural beauties all over Turkey. In fact, some natural formations are so remarkable that they manage to become the signature of some regions. Cappadocia and Fairy chimneys are one of these signature location pairings. With its natural and unique appearance, Cappadocia has an area of about 250 square kilometers and parts within the borders of many different provinces. This unique location welcomes many tourists, both domestic and foreign, throughout the year. If you want to go to Cappadocia and have a unique holiday, you can take a look at our travel guide.
Accommodation in Cappadocia
The region called Cappadocia is a place with a rich historical past. For this reason, the region also has a mystical spirit. It is also known that according to the Persian language, the region was defined as "the land of beautiful horses". The region has many signature features. Next to the fairy chimneys, historical and authentic stone houses, hot air balloons that begin to float in the sky in the early hours of the morning may be the first to come to mind. Therefore, accommodation in Cappadocia is a very enjoyable activity. There are intensively boutique hotels in the region. Accommodating few guests, these hotelsalso feature traditional breakfasts, rooms with authentic architecture and large terraces. Breakfast can be enjoyed on the hotel terrace with balloon views.
What to Eat in Cappadocia?
It is possible to see the deep-rooted historical structure of Cappadocia in food culture. It is known that there are many eye-catching restaurants in the region. Among the dishes that visitors to Cappadocia should definitely try there are testi kebab and zucchini kernel noodle rice. One of the signature tastes of the region, which is very popular, is Ürgüp meatballs. Due to the vineyards and wine production in Cappadocia, the cellars in the region are also quite famous. You can also go wine tasting by visiting these cellars. We say that you should definitely try the regional breakfast once during your holiday.
Places to Visit in Cappadocia
There are many places to visit and many activities to do in Cappadocia. It is not possible to say that I made a trip to Cappadocia without seeing the Fairy Chimneys, which are also on the UNESCO cultural heritage list, right? For this very reason, the first point visited by those who come to the region is the fairy chimneys. After this famous location,many additional points to visit in Cappadocia will be waiting for you. There are many underground citiesin the region. Thuja and Kaymaklı Underground Citiescan be given as examples. In order to get to know the historical identity more closely, the Church of St. John the Baptist and the Church of Çavuşin in Cappadocia are also points to be visited. In addition, Uçhisar Castle is one of the stops that are met with great interest in the region. Those who want to focus on the natural beauties of Cappadocia should not worry at all, the valleys and hills in the region promise fascinating views and ambiences. Getting support from vehicles such as public transportation during the tour in the region may cause a certain difficulty for the guests. You can create your travel route according to your own wishes and expectations and evaluate car rental services to spend a comfortable holiday. As MYG Rent a car, we are pleased to accompany you on your trip to Cappadocia. In order to have a comfortable, safe and enjoyable holiday, you can easily reach us from our website and contactinformation.